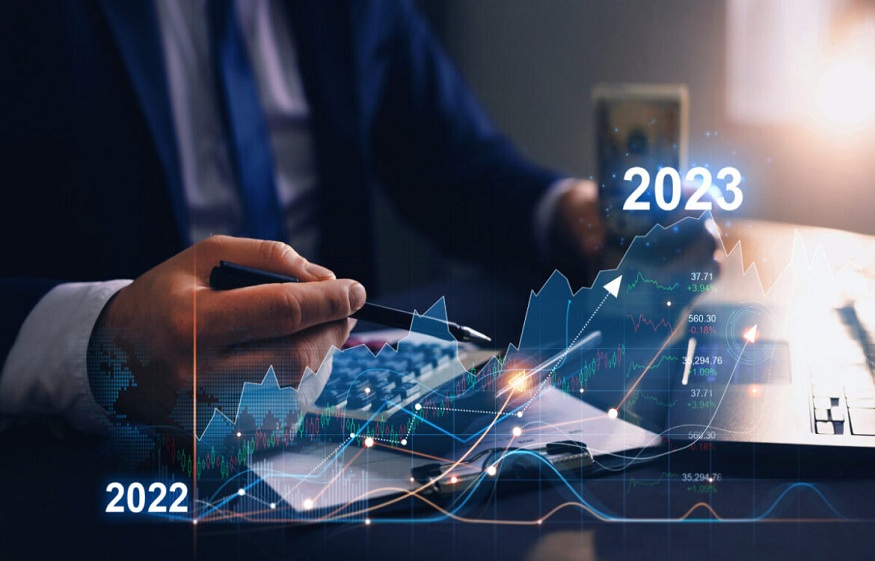 Fintech Trends & Opportunities to Look for in 2023
The fintech sector is ever-evolving and there are always new waves and trends that are set to disrupt the financial landscapes. Banking, financial institutions and businesses are working tirelessly to streamline operations and meet today's customers digitised needs. Financial technology is already taking over the traditional methods and reshaping the global financial sector. Customers now get access to financial services right at their fingertips-take loans, pay bills, get credit cards and even develop digital wallets.
Not only that, financial institutions have adapted ways to hold up during these turbulent times. From global central banks tightened financial conditions, to countries that are just bouncing back from covid, to wars and financial markets crash.  Businesses are always looking for ways to survive turbulent financial spheres, hence bringing up trends that cannot be ignored. Our analysts have gathered game-changing trends set to take centre stage in  2023 and beyond.
Embedded finance is the way to go
Embedded finance is a trend that has been around for a while with no sign of ever slowing down. Non-financial organisations are now offering financial services to customers to improve customer experience. From banking to investments to insurance and payment processing, this helps boost sales while making life easier for shoppers. For instance, Tesla is offering insurance services to car buyers so they don't have to deal with insurance hassle anymore. Moreover, the concept of buy now pay later (BNPL) is also gaining momentum. Businesses are allowing customers to buy products and pay later which means they can divide the balance into installments that have to be cleared overtime. Definitely, a win-win for consumers and companies. 
Digital banking becomes a norm
Pandemic has skyrocketed the adoption of digitisation by financial institutions to an all time high. As brick and mortar institutions were closed, and there was less physical interaction, there has been a huge shift to a rounded, well- refined digital customer experience. One of the biggest hits is digital and contactless payments which was boosted by the pandemic. Cash transactions decreased while online banking, mobile banking apps and transfers took over. Banks and financial institutions have gone from being laggards to potential leaders in digitalisation.
Digital-only bank is gaining momentum
Banking in the post-pandemic world is on another level. We are experiencing the rise of digital-only banks and will only just keep soaring higher. Given the functionality and sheer convenience, the rise in digital-only banks doesn't come as a surprise. The wait at the long queue is over. You really don't have to go through the difficult paperwork anymore. And with just a few taps on the phone, banking has been made easier.  A bank that exists in the virtual world yet meets all your financial needs. Contactless payments, buying and exchange of Bitcoin, global payments, quick balance reviews and much more is definitely a keeper. 
Crypto is still standing strong
It's been a rocky year for crypto with bitcoin and ethereum and other major coins digging deep over the months. Nevertheless, people's interest in crypto still remains high. The point is the fall is never permanent and crypto will always find a way to bounce back on its feat. The Blockchain technology is still being applied and accepted. A good example is Blockchain helping to achieve fast, seamless cords border payments. It aims to resolve inefficiencies in international transactions while providing faster, cost effective and secure options. Big organisations like Google have recently partnered with Coinbase to let users pay for cloud services using crypto. Businesses and investors will only keep rooting for crypto considering its numerous benefits. 
The embrace of open banking
Although this is a new trend, its adoption has continued to grow. Open banking is a practice that allows third party payment services access to banking transactions and data from banks and financial institutions. This will help to provide personalised customer experience and improve financial services. As competition becomes fierce in the marketplace, banks are able to up their offerings and provide clients with improved financial services. Consumers also gain control over their finances and get faster services when they need to avail of other financial products.
Peer-to-Peer finance and credit
Peer-to-Peer finance and lending is another trend that will shape 2023 and beyond. It is a practice of lending money to individuals or businesses without interruptions from financial institutions. Thanks to fintech, peer to peer lending has become a reality and a good alternative to traditional bank loans. Today, there are plenty of companies and individuals that lend money to people and businesses. Examples include SoFi, Prosper, Lending Tree, and many more. 
Last words
These fintech trends are significant things you should lookout for 2023. Even if you don't belong to the fintech world, certain trends might still have a huge impact on your business or finances.