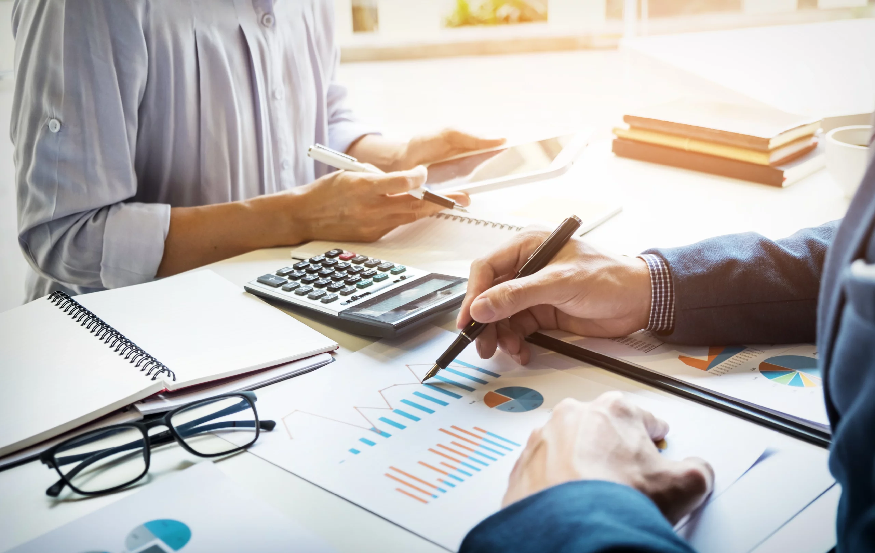 Making the Switch: The Benefits of Cloud Accounting for Modern Businesses
It could be time to upgrade to a cloud-based accounting system if your business still uses desktop software or spreadsheets for accounting. In comparison to on-premises solutions, cloud-based software has several advantages, such as the freedom to work from anywhere at any time, the automation of laborious manual operations, increased accuracy and compliance, and the capacity to speed up financial closing procedures. 
Companies may also benefit from more predictable software expenses, lower hardware costs, fewer IT overheads, improved disaster recovery, smarter threat and security monitoring, higher levels of availability, improved performance, and scalability. 
15 Cloud Accounting Benefits You Should Know
With a cloud system, the supplier handles hosting and upgrading of your accounting software. You move your accounting online and use a browser to access the software, paying a subscription fee for the service. The computers at your business don't need any software purchased or installed, and cloud software is less expensive to implement and deploy. 
Any system built on the cloud has a number of benefits, including allowing authorised users to access current, accurate financial data while at home or on the go. Additionally, some systems offer more sophisticated features, like extensive automation of accounting procedures. 
Less administrative work: Because cloud accounting software is accessed online, business owners can do away with time-consuming software installation, backups, and other administrative activities. To run your accounting software, you don't need to invest in or maintain servers or other IT infrastructure. Regular backups of crucial financial data are automatically performed by your accounting provider, so you don't need to. Staff members can spend more time on the profitable tasks that expand your company by spending less time on administration.
Up-to-date software: The most recent version of the software is always available because it is stored on the cloud. The cloud service provider automatically updates the accounting program to reflect any changes to tax laws and accounting standards as well as to introduce new features. You won't need to worry about updating your software in order to keep up to date because you'll always have access to the most recent version whenever you log in.
Automation: Many accounting and banking operations are automated by cloud-based accounting software, resulting in a reduction in manual labour. The software, for instance, can generate recurring bills, pay subscriptions, schedule reports, import bank and credit card transactions, and record transactions to the appropriate ledger. When invoices and purchase orders don't match, it may automatically calculate taxes and discounts and indicate those instances as exceptions. With the ability to automatically handle tax calculations for different countries and currencies, some cloud accounting software programmes are particularly helpful for worldwide sales.
Compliance: Compliance is made simple thanks to cloud accounting tools, which provide precise financial statements, quarterly tax projections, and annual tax returns. By doing this, business owners can avoid under-reporting their tax obligations, which could result in audits or penalties, or over-reporting and overpaying. Cloud computing systems also assist in ensuring compliance with all applicable tax laws by automating calculations for both domestic and international taxes. To adhere to established accounting rules, the best cloud accounting solutions even automate revenue recognition.
Paper-free/eco-friendly: Traditional accounting frequently involves a tonne of paperwork. Physically storing archived paper data or manually distributing paper reports to investors, lenders, and other parties is wasteful and redundant in today's digitised environment. In order to import invoices into the cloud accounting system directly, request that vendors pay them electronically. By scanning paper invoices and receipts for processing, you may organise your workspace. Sending invoices to customers via email saves money on printing and shipping while accelerating the payment process. Using less paper also has a positive impact on the environment: The average company produces 350 pounds of wastepaper per person each year, not to mention the millions of printer cartridges that are burned or dumped in landfills; however, cutting back on servers and hardware usage can have an even bigger impact on energy consumption. 
Data security: You might be worried about putting private data in the cloud. However, cloud accounting services really improve security in a number of areas for the majority of firms. To ensure that only authorised users can access your data, cloud providers first apply multiple levels of security, including strong encryption and access control. Additionally, they regularly backup your data so you don't have to worry about losing important financial documents. Your data is secure because it is saved online, so it won't be compromised if a worker loses a laptop or if a building suffers fire or flooding damage. Then, your IT team can concentrate on protecting endpoints and guaranteeing that workers have the appropriate access privileges for their positions. 
Scalability: One of the most appealing aspects of the cloud is scalability. Spreadsheet accounting quickly becomes unwieldy as a business grows, and desktop-based accounting software often has limited capability, which can be detrimental to a developing company. For instance, you don't want to be forced to use a system that you'll outgrow in a year if you're a company with expansion plans. With comprehensive cloud-based accounting software, you can start with the most basic accounting capabilities and add more as your business expands. It can scale and adapt to your firm's demands. 
Accuracy: By removing many of the risky manual procedures necessary when using spreadsheets, cloud-based accounting software increases accuracy. Cloud computing software can automatically classify transactions, calculate taxes, match received invoices to payments and shipments, and even automate reconciliation procedures by comparing internal transactions to bank records and highlighting inconsistencies. 
 Single source of data: All financial data is kept in one database via cloud accounting systems, ensuring that everyone in the company has access to the same information. Teams no longer waste time trying to determine whether version of a spreadsheet is accurate. Consistency across all accounting procedures and financial reports is guaranteed by a single, unified, authorised data source. 
 Customisation: Because every business is unique, it makes sense to select cloud accounting software that can be adjusted to meet the specific requirements of your firm. You may customise processes and workflows with some cloud accounting solutions to better suit the way your business runs. You can create customised dashboards that give each user a quick overview of their most crucial KPIs and other data. Additionally, you can include company-specific terms and branding. 
Accessibility/availability: Cloud-based accounting systems liberate you from the limits of your office, in contrast to traditional desktop accounting software. Authorised users of online accounting software can log in at any time, anywhere, using a web browser or mobile application. They don't need to wait till they get back to the office to approve payments or submit invoices. Members of the accounting team are always connected to the most recent financial data and real-time analytics. It is simpler for staff members who are working from home or while travelling to share electronic papers as all data is kept in the same cloud-based system. True cloud applications can be accessed without the need to purchase additional software, such as Citrix or a VPN (Virtual Private Network). 
Real-time reporting and data visualisation: It can be challenging to acquire a quick, precise, and current snapshot of business performance when a company administers its accounting using spreadsheets or paper-based systems. As a result, managers may fail to recognise problems in time to stop them from becoming more serious ones. This issue can be resolved by real-time access to centralised financial data offered by cloud accounting solutions. Users always have an up-to-date perspective of the company's current financial status rather than having to wait for previous reports that are weeks or months out of date. Simple charts and key performance indicators are created from complex data by dashboards and other built-in analytics tools. With cloud software, data visualisation costs far less and helps the team quickly spot trends that have an influence on the business. 
Possibilities for integration: A few cloud accounting solution providers offer extensive collections of connected business applications that access the same main database. You can add modules that deal with practically every part of the business as your firm expands, from payroll to inventory management, marketing, and e-commerce. You will get a precise, up-to-date view of financial data throughout the entire company because all of these systems draw data from the same database. The most effective cloud solutions have also developed ecosystems with hundreds of providers who offer complementary products to add specialised accounting functions or increase automation. Additionally, you can link up with online platforms for billing and payments. 
Collaboration: Team members can more easily cooperate because all financial data is kept online in a single database. It's not necessary to maintain numerous copies of the same file or transfer data to thumb drives before sharing it. As long as they have access to the internet, employees can collaborate from any location. This can speed up the financial closing procedure and make other jobs easier, such as forecasting. 
Efficiency: Automated accounting procedures, immediate access to reliable data, and less administrative work all contribute to a more effective accounting function overall, which raises the effectiveness of the entire company. Due to improved accuracy and built-in controls, your staff will spend significantly less time manually entering and verifying data, and they will also work less diligently to resolve problems like invoice mismatches. Because of automation and improved data accuracy, staff workers can avoid rushing to combine data from several systems in order to meet deadlines. Additionally, everyone inside the organisation has access to reliable, current financial data, allowing them to use it to make decisions that will enhance corporate performance. 
Switch to cloud accounting
Moving to a cloud-based accounting software system can improve efficiency and offer real-time visibility into financial performance, whether you're a fledgling firm or a multinational enterprise. The automated daily transactions, accelerated financial close, and assistance in maintaining compliance with tax laws and accounting standards are all features of the best cloud based accounting systems like Sage's Intacct. You don't have to invest in or maintain on-premises hardware and software because the software is cloud-based. Employees can cooperate remotely, approve transactions, and access information. 
Compared to desktop-based accounting software and labour-intensive spreadsheet-based processes, cloud accounting solutions have many advantages. The most effective cloud solutions automate every accounting task, lowering manual labour requirements, increasing accuracy, and speeding up financial closing procedures. From any location in the world, employees may access real-time financial data and communicate. Comprehensive cloud-based solutions are adaptable and adjustable to meet the needs of expanding businesses and interface with a wide range of other business apps. 
Benefits of Cloud Accounting FAQs
What advantages do cloud accounting services offer?
A: There are several advantages to cloud accounting. Instead of purchasing software licences or maintaining hardware on your company's property, your supplier operates the program in the cloud, which you may use online and pay for via a subscription. Users are able to work remotely. In order to introduce new features and stay up with modifications to tax and accounting requirements, the provider automatically upgrades the software. Some cloud financial tools help accuracy by automating standard accounting procedures. 
Why is cloud accounting advantageous for companies?
A: The best cloud accounting solutions are highly scalable, allowing them to accommodate the changing requirements of expanding businesses. Additionally, cloud accounting might boost a company's productivity. Users have access to up-to-date information about your company around-the-clock and from any location. Modern cloud accounting systems automate labour-intensive, monotonous tasks that can be prone to error manual processes, saving your business money on servers, licences, and IT staff time. 
What are the advantages of the cloud?
A: Data is accessible online 24/7 from any location and device thanks to the cloud. Your information and programs are kept on a network of linked servers that functions as a scalable unified system. Because you can access the system online, there is no productivity loss if an emergency event, such as a flood or fire, affects your business. 
What advantages does accounting offer?
A: Accounting is a vast field of study that concentrates on a company's ongoing financial operations. Accountants assist business owners with budget creation, spending management, cash flow management, and revenue forecasting. As a result, company executives are better equipped to decide on significant investments, assess staffing and payroll, monitor business expenses, keep an eye on the financial health and expansion of their company, and maintain correct financial records. 
About us
This article was written by Itas Solutions. We're a UK–based accounting firm specialising in Sage Intacct. If you would like to know more about Intacct and how it can help you and your CFO, we would be more than happy to demonstrate the advantages of using powerful cloud accounting software like Intacct. 
Itas Solutions started off serving one client in 1995 and now services over 200 businesses across the UK. We are always available to assist our clients. 
Itas is a business that our customers have trusted for more than 20 years, and we have expanded thanks to recommendations from them and IT professionals who value our educated but personalised service. 
To discover more about how Itas can help your business with finance automation, Sage implementation, and increased purchasing management, contact us at [email protected], phone us at +44 (0) 1824 780 000, or send an email.