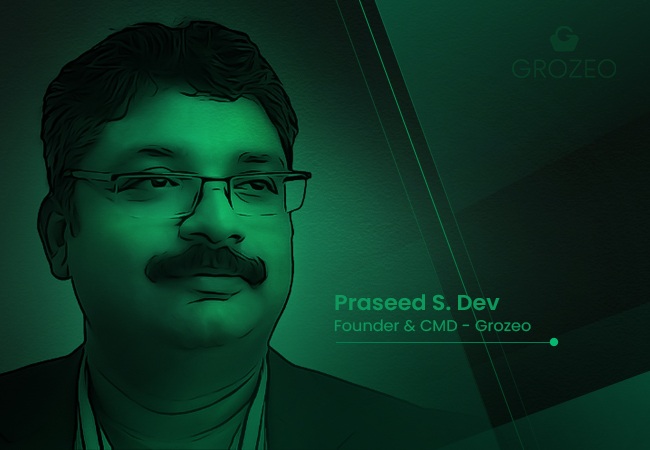 Praseed S Dev: The Innovator Behind Grozeo's Retail Revolution
As the CMD and founder of Grozeo, Praseed S Dev's journey is filled with dedication, vision, and a deep commitment to transforming how retailers operate in the digital age.
A Legacy of Entrepreneurship
Praseed S Dev comes from a family deeply rooted in business and has been an active contributor to his family's diverse ventures. His journey into the business world began with invaluable hands-on experience in investment, administration, and research and development. With a keen sense of business, Praseed played a pivotal role in implementing successful organisational initiatives.
Before venturing into entrepreneurship, Praseed honed his skills at multinational corporations such as Macmillan and SDB. During this period, he developed the skills and knowledge to serve as a solid foundation for future endeavours.
A Leap into Information Technology
At the cusp of the new millennium, Praseed began his journey into the sphere of information technology, driven by a desire to streamline his family's internal supply chain operations. He demonstrated exceptional leadership and decision-making abilities, eventually leading to founding his own information technology company.
Praseed's company introduced the world to "Carego," a groundbreaking software product that revolutionised the travel, transportation, and logistics industries. Carego's impact remains relevant over a decade since its inception. In 2018, Praseed made a strategic move by selling Carego to another company, marking the closing of his first IT venture.
Innovating for Retail
Praseed S Dev's second IT company in the retail sector signalled a new chapter of innovation. Here, he introduced "Retaline," a product designed to empower small businesses to transition into the world of e-commerce seamlessly without requiring extensive technical knowledge. As the director of Velosit Info Labs and Grozeo, Praseed played a crucial role in creating the Retaline software application tailored for large-scale retail.
A Visionary in Supply Chain Management
Praseed's expertise extends to the intricacies of haulage workflows and supply chain optimisation. He has assisted numerous clients in devising DPRs (Detailed Project Reports) to enhance their supply chain and stock management processes. Working closely with commercial transporters, Praseed has delivered services across various transport models, including FTL (full truck loads), LTL (less than truck loads), 3PL (third-party logistics), and loose cargo. His adeptness in managing CTT (carrier transmit time) and load management through AI solutions has brought about efficient transportation solutions.
Revolutionising Logistics with QuGeo
Praseed's quest for innovation continues beyond there. He conceptualised and developed a hyper-local logistics service leveraging GPS technology known as QuGeo. This innovative solution allows customers to book shipments and automatically select the most suitable vehicles for pickup. QuGeo calculates fees based on distance and even optimises routes to eliminate traffic congestion, ensuring the fastest delivery possible.
Grozeo: The Retail Revolution
Praseed's most recent and ambitious project, Grozeo, is set to redefine the retail landscape. Grozeo offers an advanced, zero-cost, zero-coding inter-merchant physical marketplace solution that retailers can easily set up within minutes. Moreover, Grozeo is customisable with tech solutions for pick and pack and managed services for last-mile delivery, fostering seamless communication with various stakeholders, including customers, order pickers, and delivery personnel.
With predictive algorithms and innovative collaboration mechanisms, Grozeo facilitates a unique shopping experience. It empowers customers to discover stores near them effortlessly and enables retailers to work together more efficiently to provide the best service possible.
A Philanthropic Visionary
Praseed's impact extends beyond the corporate world. He generously shares his wealth of knowledge as an IT consultant with various business groups, corporate houses, and government organisations. He consistently remains at the forefront of technology projects, driving the creation and development of groundbreaking software products.
Furthermore, Praseed is an active member of numerous trade bodies and chambers of commerce, including the Indo-German Chamber of Commerce, Indo-Australian Chamber of Commerce, and the Trivandrum Chamber of Commerce and Industry. His involvement in cultural programs, entrepreneurship workshops, and business seminars showcases his commitment to nurturing and developing emerging businesses.
Praseed S Dev is not just an entrepreneur; he is a visionary, an innovator, a philanthropist, and a driving force in the world of technology and business. His dedication to transforming the retail industry through Grozeo, one of the best online retail store website builders, and his unwavering support for startups and NGOs make him a true exemplar of creative entrepreneurship in the 21st century. Praseed's journey is a testament to what one can achieve with vision, determination, and a passion for innovation.