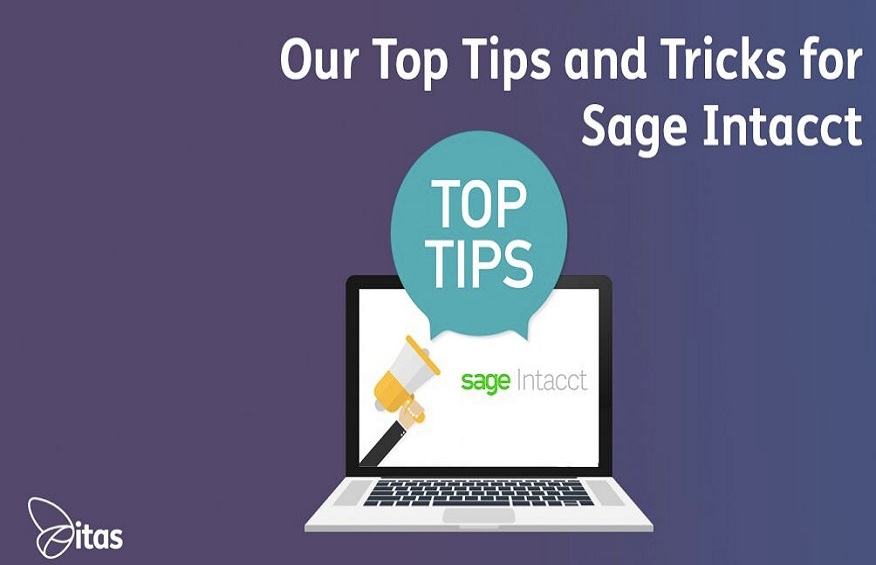 Sage Intacct – Tips and Tricks
Sage Intacct is a powerful cloud-based financial management platform that can help streamline your business processes and improve productivity. Here are some tips and tricks to help you get the most out of Sage Intacct:
1. Use shortcut keys: Sage Intacct has several shortcut keys that can save you time when entering data or navigating the platform. For example, use Alt + S to save a record, such as a customer or vendor record.
2. Create custom fields: Customise your Sage Intacct experience by creating custom fields for specific data types or tracking purposes.
3. Make preference pages for each user: Set up individual preference pages for each user to streamline their workflows and improve productivity.
4. Use the Favourites tab: Bookmark common and important tasks in the Favourites tab for quick access, saving time and making users more productive.
5. Take advantage of colour coding: Use colour coding to visually organise and differentiate data in your Sage Intacct platform.
6. Utilise the Audit Log: Keep track of changes made in your Sage Intacct system by using the Audit Log feature.
8. Lean on the Help Centre: Make use of the Sage Intacct Help Center for guidance, tutorials, and support when needed.
9. Define Full Admins: Clearly communicate who the Full Admins are within your organisation and ensure they are easily accessible to avoid delays in password resets and approvals.
10. Keep the company message board updated: Use the company message board within Sage Intacct to share important updates, announcements, and reminders with your team.
11. Perform simple calculations in numeric fields: Sage Intacct allows you to perform simple calculations in most numeric fields, making data entry more efficient.
12. Try inter-entity transactions: Use inter-entity transactions to streamline processes and improve accuracy when dealing with multiple entities within your organisation.
13. Use notations in the Financial Report Writer: Add notations to your financial reports to provide notes and explanations, ensuring clarity for all team members.
14. Automate processes with triggers: Streamline workflows and automate tasks using triggers in Sage Intacct's platform services.
15. Join the Sage Intacct Community: Connect with other Sage Intacct users through the community, user groups, and meetups for networking, collaboration, and support.
16. Implement best practices for payments: Optimise your payment processes by following best practices, such as daily reconciliation of payments and bank transfers in real time.
By utilising these tips and tricks, you can enhance your Sage Intacct experience, save time, and improve productivity within your organisation.
About us
This article was written by Itas Solutions. We're a UK–based accounting firm specialising in Sage Intacct. If you would like to know more about Intacct and how it can help you and your CFO, we would be more than happy to demonstrate the advantages of using powerful cloud accounting software like Intacct.
Itas Solutions started off serving one client in 1995 and now services over 200 businesses across the UK. We are always available to assist our clients.
Itas is a business that our customers have trusted for more than 20 years, and we have expanded thanks to recommendations from them and IT professionals who value our educated but personalised service.
To discover more about how Itas can help your business with finance automation, Sage implementation, and increased purchasing management, contact us at [email protected], phone us at +44 (0) 1824 780 000, or send an email.