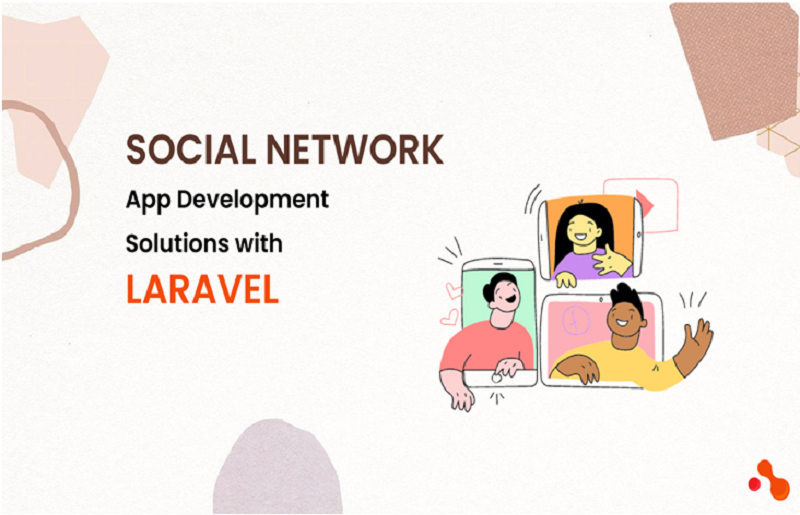 Social Network App Development Solutions with Laravel
Develop a social media app for your business and capture a share of this market that is growing at an exponential rate.
A social media app is one that a high percentage of users spend several hours a day. Your business can do wonders by hiring a professional mobile app development company like Acquaint Softtech to build a social network app with your unique concepts and ideas. This is the right time to develop with the increasing number of smartphone users.
Introduction 
What is a Social Networking App?
Mains Benefits of This App
Main Features
How to Make Money With Social Media Apps?
Social Media App Development Cost
Tech Stack & Social Networking App Development Team
Common Challenges
Advantages of Hiring the Professionals
Conclusion
FAQ
Introduction 
Social media networks have taken off in a big way globally and are showing no signs of slowing down. The number of social media posts made each day is on the rise as are the users. There are more Internet users than ever before and they now have a wider choice of electronic devices to access the internet like smartphones, tablets, PCs, and laptops. There is no app for almost everything hence it is no big surprise that the smartphone usage of adults globally is also rising.
Here are a few statistics that suggest the same:
Internet users spend 2 hours and 25 minutes daily on social media globally.
There are over 4.72 Billion social media users globally as of October 2022.
Over 10 Billion hours are spent on social media daily which is equivalent to 1.2 million years.
Hence although there are already many social media apps; businesses can benefit from social media app development with new and unique features.
What is a Social Networking App?
Many of us like to socialize with like-minded people or share with friends and relatives. A social networking app allows us to do this online and offers many more features. In fact, they have been gaining in popularity globally. We tend to associate social media networks with Facebook and Twitter since they are well-established apps with a large user base.
Such apps are also evolving with now many more apps offering similar features. However, each has a unique touch to them which makes them stand out. For example, LinkedIn is for working professionals, TikTok is an app that encourages users to share their video messages, while Instagram is all about posting photos and videos more or less instantly.
Effects of Social Media Apps & Industry Forecasts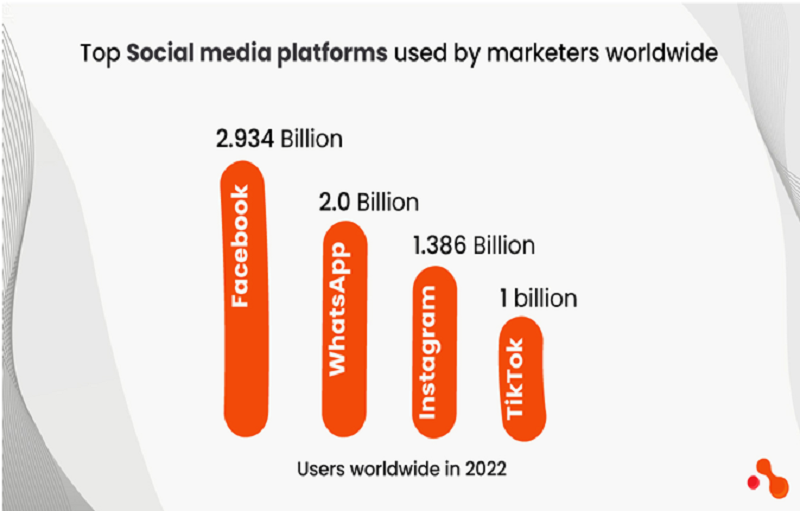 Social media apps have made a big impact in various fields besides being highly popular with common users, there are also several types of social media apps with many other applications like placing ads.
The future looks bright for social media apps, here are several statistics that suggest the same:
There were 190 Million new social media users in 2021 which is equivalent to 6 users every second.
Facebook has over 2.934 Billion users worldwide, WhatsApp 2.0 Billion, Instagram 1.386 Billion, and TikTok 1 billion as of Oct 2022.
Number of social networking apps in 2021 was 4.88 Billion, while that in 2017 was 2.89 Billion and in 2014 was 20.4 Billion.
Mains Benefits of This App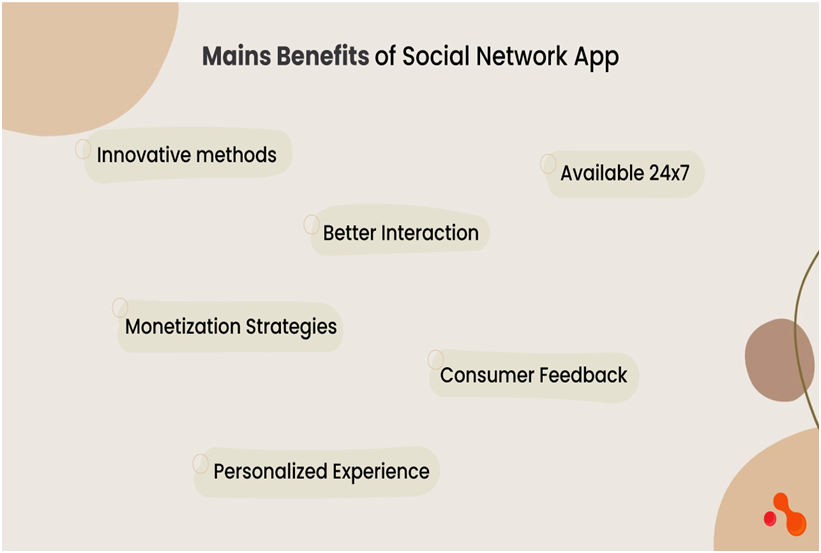 Users have many innovative methods to interact with each other.
An online platform allows users to gain a deeper understanding of the community thus allowing better interaction and creating better relationships.
Creating a customized solution for a social media network allows one to also create better monetization strategies.
Your business can use consumer feedback and behavior to optimize the app.
It is simpler to offer users a more personalized experience.
There are several options available to monetize the app.
Users can share their experiences and increase their knowledge on various topics.
This type of social network app is available 24×7 making it accessible at the user's convenience.
Main Features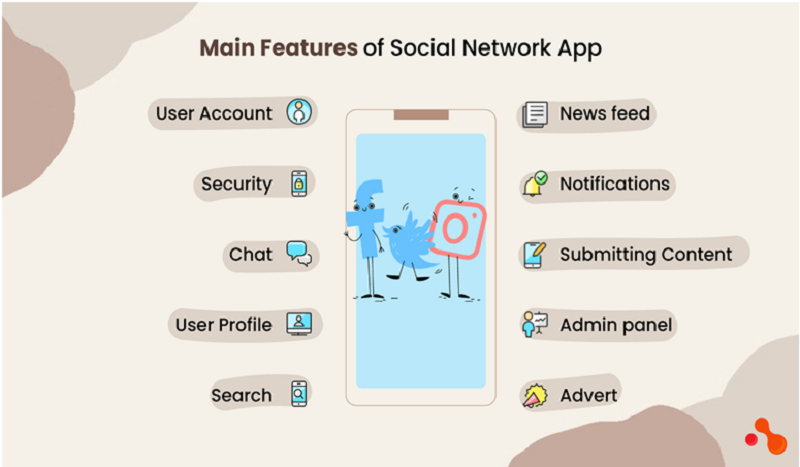 News feed: The app provides a feed of the topics of interest of the user and activities and posts of all connections.
Notifications: The user received notification for new posts from connections and other posts of interest.
Submitting Content: Users can post their content this can be text, images as well as videos, and website links.
Chat: One can chat with other users of the social media network.
User Profile: User profiles are visible to other users and connections as per personal preferences hence they can set up their profile with relevant information.
User Account: Users can manage their accounts and set preferences.
Search: Search for other users and accounts using a robust search.
Admin panel: Administrators can manage their app through user management and post-moderation.
Advert: Businesses can post ads to target a specific audience.
Security: The app has several levels of security to help the user maintain their privacy.
How to Make Money With Social Media Apps?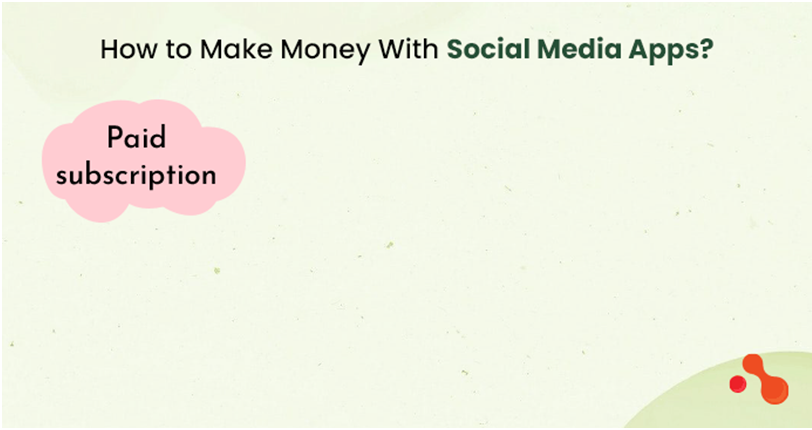 A social media networking app has many options when it comes to monetization:
Paid subscription: The user can gain access to free content and features and be required to take up a subscription for additional features.
Sponsored content: Business account holders or other active users can opt for sponsored content to push their content to relevant users.
In-app purchase: Integrate an online shopping platform along with the platform to allow users to browse and buy directly.
Ads: Businesses can post custom adverts to target a specific demographic of users.
Events: Promote upcoming activities and events with links to the ticket platform online.
Social Media App Development Cost 
There are many types of social media apps with a wide range of features. The cost of developing such an app depends on the platform like iOS, and Android, a mobile app for both platforms, a website, etc. The technologies used in the development of the app also include the cost as do several other factors. Businesses can hire a developer on an hourly basis or as dedicated full-time developers or part-time developers.
Tech Stack & Social Networking App Development Team
There are several tools one can select for this type of solution. The technology you pick will depend on the type of app you wish to build like a native app or a cross-platform one. It will also depend on the type of features to be included, hence if it includes a virtual tour or augmented reality one can use advanced technologies like AR/VR. The tech stack can look like this:
Laravel, Flutter, React Native, MySQL, Firebase, AWS, Google Cloud, NodeJS, JavaScript, and Google Maps.
It is a good practice to hire a professional social networking app development team to develop a feature-rich app. Acquaint Softtech has highly skilled developers to develop a stunning app.
The typical team necessary to develop such an app includes:
Project manager
UI/UX Designer
iOS/Android Developer
Backend Developer
QA person
Our Laravel development services can be beneficial for your business since this is the ideal PHP framework to develop a strong, secure and robust backend.
Common Challenges
A brief look at the features of a social networking app might fool one into believing that it is a simple app to develop. However, there are several challenges one will face while developing such an app as listed here:
Social media apps tend to have a high number of users hence the app should be well-designed to ensure it does not fail when several users are using it simultaneously.
An app like this will have sensitive information on users and also consist of a wide range of content shared by the users with varying levels of privacy. It is vital to secure the app to prevent hacks. It is also necessary to introduce several layers of security to maintain the privacy of posts of individual users.
It is important to hire a good skilled UI/UX designer to ensure smooth navigation and simple design with good functionality to avoid frustrating the user.
Making the extra effort to give users a more personalized service is a challenging task.
Advantages of Hiring the Professionals
Hiring professionals means trusting mobile app developers with the expertise to create stunning social media apps with unique features. Users can share their thoughts and messages with their connections and also take advantage of the other features. At Acquaint Softtech we have the right set of resources and a highly skilled team of developers to deliver a social media app with the best features.
When you trust a mobile app development company like Acquaint Softtech you get a highly experienced team with creative designers, top-notch developers, and dedicated testers.
Conclusion
Social media apps are in high demand and already have a high user base. But the good news is that there is room for better and more innovative social media apps. If you have a new concept for a social media app or an idea to implement it in a better way this is the right time to enter this market. You can leave the worry of high development costs at the door. We offer affordable solutions at Acquaint Softtech from a professional team who delivers timely solutions free from bugs or errors.
FAQ
1. What makes a social media platform successful?
Smartphone users love social networking apps that allow them to share content with their connections and connect with new users online. Including additional unique features is what will set your app apart and make it more appealing.
2. What are the benefits of developing a social media network?
This type of social network app allows users to post and connect with their friends all around the clock. There are many options available to monetize such an app and potentially gain a large user-base fast.